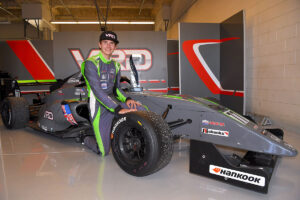 BALTIMORE, MD, November 8, 2021 — Just as he did in his F4 United States Championship debut back in April, Jason Alder was victorious in his first ever Formula Regional (FR) Americas Championship Powered by Honda race. Taking on the famed Circuit of the Americas, Alder took advantage of a fast Velocity Racing Development #77 machine and some misfortunes by his competitors to drive to the front of the field and stand atop the podium. Earning three to- ten results and two top-five finishes on the weekend, Alder's debut in the series will be unforgettable.
Topping the charts in two of the three practice sessions on Thursday, Jason Alder went into his first FR qualifying session with high hopes. Showing the speed of his VRD Ligier JSF3, Alder scored the fourth fastest lap of the session to start race one from outside row two.
With a history setting performance in the first wheel-to-wheel action of the weekend, Alder moved to the point and drove to his first FR Americas win in his series debut. As the only driver ever to score a win in both the F4 United States Championship and the FR Americas Championship in the same season, Alder celebrated on the podium and with his VRD team.
"I really just can't believe we're here," said Alder. "It's been an incredible effort from everybody at Velocity Racing Development. It's been a learning experience for me, and we're just trying to get a head start on next year. To come out with a win is sort of incredible for me, for the boys, and everyone back at the shop."
"I have some working out to do," Alder said after climbing from his car. "Dealing with the car's weight was the biggest challenge. This is the most physically demanding race I've ever participated in. The FR car is a bit more physical than a Formula 4 car."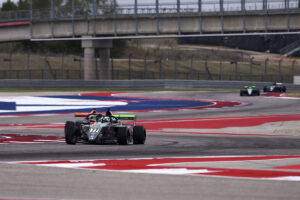 Returning to the track Saturday for the second race of the weekend, Alder earned another top-five result. After advancing forward from sixth on the opening lap to third by lap six, Alder ran in the top-three until the eleventh circuit when attempting to pass for the P2 spot, Jason made an error shifting gears, causing a spin. After getting the car back on track, Jason had dropped to fifth in the late stages of the race. Competing against drivers who have been in the series all season, Alder was satisfied with his result, but anxious for another opportunity in race three later that afternoon. Race three did not go as planned for the FR Americas debutant as a fourth place starting spot was replaced with the tenth place running position by lap ten. Never giving up and pushing to the very last lap, Alder was able to climb back forward and salvage a seventh-place result.
Alder added, "I love the FR car and everything about it. I know there are areas that I need to work on to improve but that will come with time. I made a lot of mistakes this weekend in all three races.  I'm happy with the results and going into the off season, I know what I need to work on for next season.  Thank you to everyone who has helped me this season. I can't wait to push on further."
Photos: Gavin Baker Photography